​Join the 'Krew'
A specialist Syndicator with a dedicated team committed
to providing the best opportunity for you and your horse, to enjoy the thrill of racing! 
Krew Racing is a family business with a hands on approach.
We are passionate and aim to provide a fabulous experience for our owners.
Take a look through our site, view our available syndicates, learn more about who we are and how we do it – and if you want to enjoy the "Krew" – drop us a line or register your details below! 
4 Year Old Bay Colt
Owners: Krew Racing (Mgr: N R Kendrick), G Seto, G B Warren, M L Planche, M A Lewis, G McNabb, J England, K D Kenny, T Lalli Cafini, D Cameron, Mrs C J McDonald, E Daunt, W J Daunt & S R Cook
3 Year Old Bay Filly
Owners: Bjorn Baker Racing (Mgr: B Baker), D R Grimmer, S E Tuckey, J S Towner, S L Jimmieson, T C Heaslip, Miss K Howard, I D Macerlich, S A Miller, P J Walsh, G Seto, S W Kendrick, Ms P A Mens, J Halls, Champion Racing Club (Mgr: G McLaren) & Krew Racing (Mgr: N R Kendrick)
Incentives:
3 Year Old Chestnut Filly
Owners: Ms N J Young, Mrs T M Mackinnon, Ms L M Slender, Mrs D W Dormer, Ms W Patton, Ms K M Lewis, Ms A L Taylor, Ms D V Pope, Mrs W M Yesberg, Mrs R Rowhead, Mrs K E Palma, Mrs C C Stockwell, Mrs M T Couch, Ms K Rogers, Ms L Michalanney & Mrs C Bradshaw
Incentives:
Sign up and be the first to hear of our purchases
Recent Winners
| Horse | Date | Race | Margin | Jockey |
| --- | --- | --- | --- | --- |
| Zhuang Shi | Nov 24, 2023 | 5 - Sunshine Coast | 2.00 | Jake Bayliss |
| Zhuang Shi | Sep 10, 2023 | 7 - Sunshine Coast | 0.50 | R Wiggins |
| Traitors' Gate | Sep 07, 2023 | 7 - Gatton | 1.00 | Justin Huxtable |
| Hard Reyva | Aug 17, 2023 | 4 - Rockhampton | 2.50 | R Wiggins |
| Hard Reyva | Aug 03, 2023 | 8 - Rockhampton | 0.10 | Jake Bayliss |
| Divine Okay | Jul 22, 2023 | 4 - Gold Coast Poly | 2.00 | Bailey Wheeler |
Stay up to date with our latest news.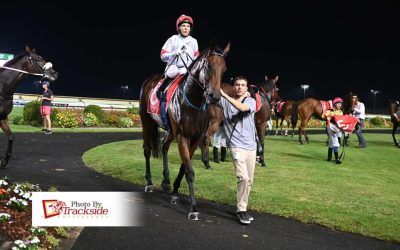 In an omen for the supersitious, Zoustar gelding Zhung Shi returned to racing a winner, taking out the Class 1 (1400m) on the Sunshine Coast, tonight.  Lining up in the fifth event on the card, with a start time of 8:08pm, carrying the number 8 saddleclosth and...